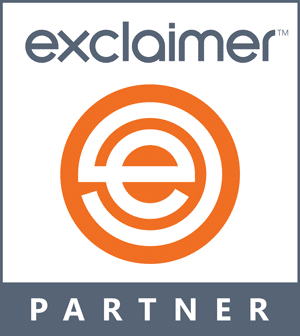 Exclaimer is a leading email signature vendor, providing multi award-winning solutions for Office 365, G Suite and Exchange.
Exclaimer have over 75 million users worldwide, working with brands like Audi, Sony, Mattel, Fidelity, the BBC and many other organizations of all sizes and sectors.
We are an Exclaimer Cloud Signatures Partner, meaning we can offer you very competitive pricing as well as set up and ongoing support if needed.
Use your company email signatures as a marketing tool, create banners to feature new products or special offers and say goodbye to manual email signature updates!
If you are:
Using Office 365 or G-Suite….?
Spending too much time managing your companies email signatures….?
Having to visit or log onto every user's computer to make signature updates…?
Or wanting high quality HTML signatures across all company devices…?
Or all of the above!
Well, without a doubt, you need Exclaimer Cloud Signatures!
If you are still not convinced, then contact us today to arrange a 14-day free trial!
Exclaimer Cloud Signatures allows you to control every users' email signature via an easy-to-use online portal. Seamlessly create signatures using a drag-and-drop editor designed for users of all technical abilities, so you don't even have to be a graphic design wizard!
The solution works with both Office 365 and G-Suite.
Benefits of using Exclaimer Cloud:
ISO 27001:2013 Certified.
Advanced user management.
Folder security.
See before you send in Outlook/Gmail.
Signatures on mobiles, PCs, laptops & Macs.
User interface available in 7 languages.
Assign different signatures to different users and departments.
Create a separate signature for internal and external recipients.
Exclaimer also have an on-premise solution:
Exclaimer signature manager Exchange edition gives your users professional, consistent, and legally compliant Exchange signatures across all devises. Ensure everyone in your organisation has the same company-wide signature, that no unauthorised user can modify.
Exclaimer Exchange is compatible with Exchange 2003, 2007, 2010, 2013, 2016 & 2019.
Contact us today to start your free trial.
Have a project in mind? Contact our team today!
Client Testimonials
Debbie
Loadtranz

Guzzbury worked tirelessly on our website, they are easy to work with, passionate about the work they do and respond very quickly!
Nigel
Decor Systems

I would fully recommend Guzzbury for all your web and marketing design needs.
Reuben
TaylorWest

Excellent service from the Guzzbury team. Able to react to clients needs very quickly and turn projects round in an very short time frame.